A Sports Medicine Physician Can Help You Reclaim Your Active Lifestyle – or Enhance Your Performance – in Jackson, WY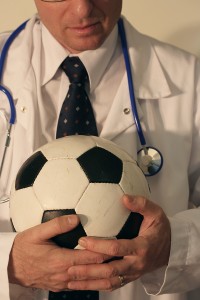 A sports medicine physician is a medical doctor who has earned special qualifications and is committed to promoting the lifelong wellness and fitness of his or her patients. At Teton Orthopaedics in Jackson, Wyoming, each sports medicine doctor in our practice is fellowship trained and board certified in the area of sports medicine, specializing in knee and shoulder surgery. We're proud to bring the latest treatment techniques to patients in Jackson Hole and the surrounding communities.
No longer just for competitive athletes, a sports medicine physician can be an ideal physician for both weekend warriors and other active individuals, as well as an excellent resource for people who would like to become more active. For anyone who experiences a sports-related injury, a sports medicine doctor at Teton Orthopaedics can apply the same expertise used for treating a competitive athlete to help the patient safely and quickly return to function.
In addition to evaluating and treating a wide variety of musculoskeletal conditions, such as sprains, strains, and fractures, a sports medicine physician at Teton Orthopaedics can help with:
Injury prevention
Conditioning programs
Return-to-play decisions for injured athletes
Communications with athletic coaches and trainers
At Teton Orthopaedics, we take a highly individualized approach to patient care, which we believe provides the best possible experience and outcome for each of our patients. The practice of sports medicine involves proactive and preventive steps as well as patient education. Our approach is based on a fundamental premise: we believe it is important to begin by looking at the big picture and identifying the underlying cause of the issues that a patient is experiencing. This is best accomplished through a two-way discussion and careful listening on the part of a sports medicine physician. Every patient is unique, and every situation has many nuances and variables that must be taken into account. This can contribute to the treatment process to achieve overall wellness, and also help to reduce future injuries.
If you'd like to learn more, contact Teton Orthopaedics to schedule an appointment for a consultation with a sports medicine physician at our office in Jackson, WY.