Shoulder Pain Treatment in Jackson, WY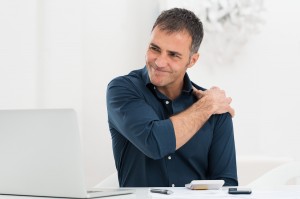 Shoulder pain treatment is available in Jackson, Wyoming, from the board-certified, fellowship-trained shoulder surgeons at Teton Orthopaedics. We specialize in treating all types of shoulder pain resulting from sporting mishaps, osteoarthritis, overuse, accidents, and work-related injuries. Some of the conditions that we commonly address include rotator cuff tears, SLAP (superior labral anterior to posterior) tears, arthritis, shoulder impingement, shoulder instability, and frozen shoulder. Many individuals who live, work, and play in the Jackson Hole area turn to us when they need effective pain relief in order to return to full mobility – and the activities they enjoy.
There are several signs that could indicate that shoulder pain requires treatment from a medical professional, such as:
Shoulder joint stiffness
A feeling of instability in a shoulder
A grinding or popping sensation that occurs with the movement of a shoulder joint
An inability to fully rotate an arm
Tingling or numbness that starts in a shoulder and travels through the upper arm
A feeling of weakness in a shoulder when lifting an arm or carrying a heavy object
As the largest and most well-known orthopaedic practice in the area, Teton Orthopaedics offers a comprehensive range of conservative and surgical options for shoulder pain treatment, including physical therapy, medications, and corticosteroid injections. For patients who require surgery, our surgeons are skilled and experienced in performing many advanced techniques, including arthroscopic joint surgery for rotator cuff repair and other minimally invasive procedures. We take an individualized approach to treatment, working closely with each patient to develop an optimal plan based on his or her unique symptoms, needs, and lifestyle.
You don't have to allow a shoulder injury to keep you sidelined in Jackson, WY. Instead, you can receive effective shoulder pain treatment from the shoulder specialists at Teton Orthopaedics. Contact us to schedule a personal consultation with an orthopaedic expert, who will help you safely and quickly get back into the game.