Shoulder Bursitis Treatment Available in Rock Springs, WY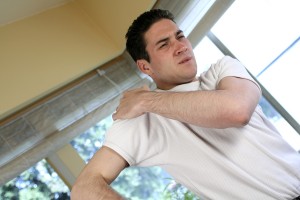 Shoulder bursitis treatment may be necessary if a bursa within a shoulder joint becomes irritated and inflamed, which can lead to pain, swelling, and limited range of motion. A bursa is a small, fluid-filled sac that serves as a gliding surface for the tendons in a joint. Most often, bursitis results from an injury. If you're experiencing the symptoms of shoulder bursitis, you can consult with the orthopaedic experts at Teton Orthopaedics in Rock Springs, Wyoming. Our private practice is highly specialized, which means that if you have a shoulder injury, we will schedule you with an experienced shoulder specialist.
Due to the complexity of the shoulder joint, the evaluation and treatment of shoulder bursitis requires a special skill set. The board-certified, fellowship-trained shoulder physicians at Teton Orthopaedics in Rock Springs, WY, can diagnose your condition, discuss your options, and recommend the best treatment plan for you. We offer a comprehensive range of treatment options for injuries and conditions affecting the shoulder.
Usually, treatment for noninfectious shoulder bursitis begins conservatively with the goal of reducing inflammation. To accomplish this, a physician may recommend a combination of two or more of the following options:
Rest and activity modification to avoid movements that worsen symptoms, such as reaching overhead
Ice packs
Pain relievers and non-steroidal anti-inflammatory drugs (NSAIDs)
Needle aspiration of the bursa fluid
Cortisone injections
Physical therapy
In most cases, the symptoms of noninfectious shoulder bursitis will improve with a few weeks of conservative treatment. In the rare instance that surgery becomes necessary, the surgeons at Teton Orthopaedics may recommend a minimally invasive procedure called a subacromial decompression to remove an inflamed bursa along with some bony tissue, if necessary, to create more space for the impinged rotator cuff tendons.
Infectious bursitis, which rarely occurs in the shoulder joint, may require more aggressive treatment from the start, such as antibiotic therapy, repeated aspiration, or the surgical drainage or removal of the affected bursa.
If you would like to explore your options for shoulder bursitis treatment, contact Teton Orthopaedics to schedule a consultation with a shoulder specialist in Rock Springs, WY. We are dedicated to keeping active bodies in motion, and you can count on us to help you get back to the activities you enjoy as quickly and safely as possible.