Rehabilitation for Athletes of All Levels in Jackson, WY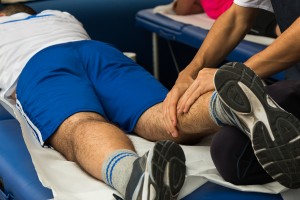 A wide variety of rehabilitation services for athletes is available at Teton Orthopaedics in Jackson, WY, where we are committed to providing world-class care for recreational, youth, high school, and professional athletes, as well as firefighters, police officers, and other active individuals. Taking a sports medicine approach, our highly experienced orthopaedic specialists help our patients get back to the activities they enjoy both quickly and safely.
For athletes seeking rehabilitation for a performance-related injury or surgical procedure, the team of experts at Teton Orthopaedics will usually begin with a comprehensive physical evaluation and a detailed assessment of the injury. Typically, an athlete will work with a physical therapist who will design a fully integrated rehabilitation program to fit the athlete's specific needs and goals. In addition to individualized rehabilitation services, a patient's treatment plan may include targeted exercises and stretches to reduce the likelihood for re-injury when he or she resumes activity.
The experienced physicians at Teton Orthopaedics, several of whom are board certified in sports medicine, provide rehabilitation for athletes using state-of-the-art techniques and procedures, such as:
Activity-specific training and physical therapy
Bracing and taping
Fabrication of custom orthotics and splints
Gait analysis
Manual therapy
Injections
Trusted by athletes from Jackson and throughout the nearby Wyoming areas, Teton Orthopaedics is the largest and most well-known private orthopaedic practice in the area. No matter who we are treating – whether it be a weekend warrior or a member of the U.S. Ski Team – our goal is to ensure a fast and safe return to activity by enhancing the patient's strength, endurance, and flexibility.
Athletes will find that it is easy to schedule an appointment for rehabilitation services at Teton Orthopaedics in Jackson, WY, where we are dedicated to keeping active bodies in motion. To get started, contact us today.