Meniscectomy Surgery for Patients in Jackson, WY, and Throughout Western Wyoming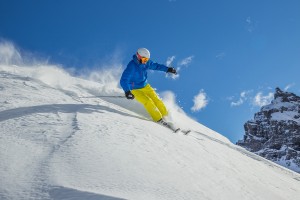 Meniscectomy is a surgical procedure designed to restore a torn meniscus, which is a common injury that can occur when the knee twists suddenly and forcefully in the wrong direction while supporting the body's weight. Athletes who participate in sports that require abrupt turns and stops, such as skiing, snowboarding, basketball, soccer, and tennis, are particularly susceptible. For information about meniscectomy or treatments for other types of musculoskeletal conditions, individuals in Jackson, WY, and the surrounding western Wyoming area can turn to the board-certified, fellowship-trained orthopaedic surgeons at Teton Orthopaedics.
When you consult with a physician at Teton Orthopaedics about meniscectomy, you will benefit from the expertise of a highly experienced specialist who focuses exclusively on treating knee conditions. In fact, in the Best of Jackson Hole Reader's Choice Poll, our practice is consistently recognized as having the "Best Knee Doctor of the Year."
At Teton Orthopaedics, we take a highly individualized approach to patient care and emphasize conservative treatment as an alternative to surgical procedures like meniscectomy whenever possible. We also believe in educating our patients about their conditions and treatment options to help them make well-informed health care decisions. For instance, during an appointment with one of our knee specialists to discuss meniscectomy as a possible treatment for a torn meniscus, you can expect:
A comprehensive evaluation of your symptoms and overall health
A detailed explanation of your treatment options, including both meniscectomy, if appropriate, and any possible nonsurgical alternatives, along with a recommendation of the best approach for you
Answers to any questions you may have about meniscectomy and other treatments
Personalized advice to help you achieve a safe and quick recovery
A realistic prognosis for your ultimate outcome
In addition to meniscectomy procedures, Teton Orthopaedics offers surgical and conservative treatments for a wide variety of other sports injuries and musculoskeletal conditions, including anterior cruciate ligament (ACL tears), rotator cuff tears, fractures, ligament sprains, muscle strains, and more. For additional information about our services, prospective patients in Jackson, WY, and the surrounding western Wyoming area can contact Teton Orthopaedics to schedule a personal consultation.