Hand Arthritis Treatment From Teton Orthopaedics in Jackson, WY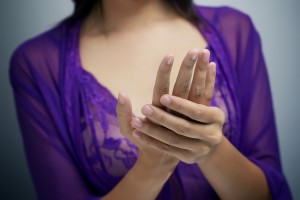 Hand arthritis can strike at any age. This painful condition has several subtypes, all of which are characterized by a gradual breakdown of the cartilage in the finger and thumb joints. In general, the main goals of treatment are to alleviate discomfort, restore function, and prevent further damage.
Because the hand is a highly complex structure, it's always best to seek hand arthritis treatment from a physician who has specialized knowledge, skills, and experience. Individuals in the Jackson, Wyoming, area can receive exceptional orthopaedic care from the hand, wrist, and upper extremity specialists at Teton Orthopaedics. As the largest and most well-known orthopaedic practice in the region, we've earned an outstanding reputation over the years. You can feel confident that you'll be in good hands with us.
The board-certified, fellowship-trained physicians at Teton Orthopaedics near Jackson Hole, evaluate and treat the several types of hand arthritis, including:
Post-traumatic arthritis – An injury can cause damage to the joint cartilage in a hand, triggering a process of persistent inflammation and continual degeneration.
Osteoarthritis – Ongoing wear and tear can lead to joint cartilage degeneration that slowly worsens over time.
Rheumatoid arthritis – This chronic and progressive autoimmune condition can cause joint inflammation that often affects the fingers.
The skilled hand experts at Teton Orthopaedics are talented subspecialists who have completed extensive education and earned additional certifications focused specifically on their area of specialty – the hand. After diagnosing a specific type of hand arthritis, we will typically advise a patient to begin with nonsurgical treatments, such as anti-inflammatory or anti-rheumatic medications, physical therapy, cortisone or lubricant injections, or bracing.
Individuals who live, work, or play in Jackson, WY, can learn more about treatments for hand arthritis by contacting Teton Orthopaedics.