Dislocated Wrist Treatment in Jackson, WY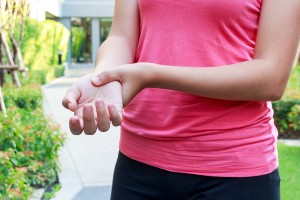 A dislocated wrist, also known as carpal dislocation (the separation of two wrist bones), can result from direct trauma to the wrist joint or a fall onto an outstretched hand. The condition, which is fairly common among athletes, can affect any of eight small carpal bones that make up the wrist. Symptoms include severe pain, obvious wrist deformity, and tingling sensations in the thumb, index and middle fingers. Due to the complexity of the wrist joint, it is vital to seek prompt medical attention for a possible dislocated wrist from a qualified hand and wrist specialist. In Jackson, Wyoming, the orthopaedic experts at Teton Orthopaedics are each highly specialized and experienced in treating injuries and conditions that affect a specific area of the body, such as the wrist.
If you turn to Teton Orthopaedics in Jackson Hole for dislocated wrist treatment, you can feel confident that you're in good hands. Our hand and upper extremity specialists, Rafael Williams, M.D. and Heidi Jost, M.D., are board-certified and fellowship-trained surgeons. In addition, Dr. Williams and Dr. Jost have each earned a Certificate of Added Qualifications in Surgery of the Hand (CAQSH) from the American Board of Orthopaedic Surgery. This is important, because a dislocated wrist may require surgical treatment to:
Restore the dislocated bones to their proper positions
Repair ligament or other soft tissue damage
After surgery, a dislocated wrist will usually be immobilized in a cast for approximately eight weeks to allow the injury to fully heal. After the cast is removed, the in-house physical therapists at Teton Orthopaedics can create a customized physical therapy program to help restore function, strengthen the wrist, and prevent future injuries.
If a dislocated wrist does not require surgical bone realignment or soft tissue repair, we may recommend a conservative treatment plan. Some options include bracing, hot or cold therapy, and exercising the forearm, hand, and fingers. Whether or not a patient has surgery, it is important to avoid activities that could hinder recovery. We can provide individualized advice regarding the required rehabilitation time, as well as activity modifications if the injury has resulted in reduced wrist motion.
If you'd like to schedule an appointment with a hand, wrist, and upper extremity specialist and learn more about treatment options for a dislocated wrist, contact Teton Orthopaedics. We are the largest and most well-known orthopaedic practice in the Jackson, WY, area, and we do not require referrals.