Bunion Surgery to Help You Get You Back on Your Feet in Jackson, WY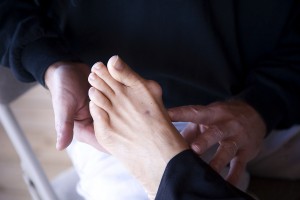 Bunion surgery is designed to address a sometimes uncomfortable foot condition that develops when a big toe begins to drift inward toward the second toe. In most cases, a bunion is not a bone growth, but rather a dislocation of the big toe joint, which causes the joint to bulge outward against the skin. While the affected area may become irritated and callused, not all bunions are painful (and the size of a bunion is often unrelated to the amount of pain it causes). Individuals in the Jackson, Wyoming, area who are interested in exploring surgery to address a problematic bunion are encouraged to consult with the experienced foot and ankle specialist at Teton Orthopaedics.
It is important to note that not all bunions require surgical correction. Oftentimes, mild-to-moderate symptoms respond very well to conservative treatment approaches, such as taking non-steroidal anti-inflammatory drugs (NSAIDs) as needed and, most importantly, wearing well-fitting shoes with a wide toe box.
During a personal consultation at the Teton Orthopaedics clinic in Jackson Hole, our foot and ankle specialist can evaluate your foot structure, level of discomfort, and lifestyle to determine whether treatment is necessary and, if so, whether surgery is appropriate for you. The most common reasons for bunion surgery include:
Foot pain
Walking difficulties
Severe foot deformity that results in an inability to comfortably wear shoes
A decision to have bunion surgery is highly personal. The main goals of a procedure, which usually involves a combination of soft-tissue balancing and bone work, are to alleviate severe foot pain, realign the foot structure, and improve mobility. Some people are interested in bunion surgery for cosmetic reasons alone, but this is generally discouraged because a non-problematic bunion could potentially become painful after surgical intervention.
The board-certified, fellowship-trained foot surgeon at Teton Orthopaedics develops highly individualized bunion treatment plans, which may include surgery or conservative treatments designed to help a patient return to an active lifestyle. Contact us to learn more and schedule an appointment at our office in Jackson, WY.